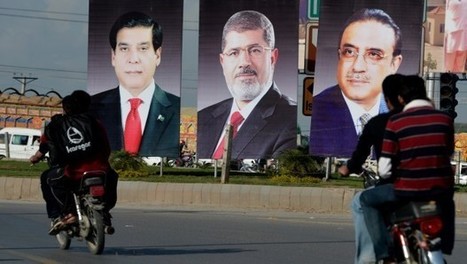 (....) Speaking to reporters after his meeting with the Indian PM, Mursi said that he wanted Egypt to be the "hub of Indian exports to Africa." His Indian counterpart said that "the agreements that we have signed today are a clear manifestation of our desire to impart a new dynamism to our relationship."


Before embarking on his south Asia tour, President Mursi left Cairo amid tempestuous circumstances. The office of the Muslim Brotherhood's guidance bureau, located in the Mokattam district of southern Cairo, has recently been the scene of two days of violent clashes. Security sources revealed that the violence, which broke out between security forces and demonstrators opposed to the Brotherhood's rule three days ago, came to an end Sunday after dozens had been injured, some of them seriously.
Now, Mokattam district is experiencing a state of uneasy calm. Intensive security reinforcements have been deployed to guard the Brotherhood's bureau, while plain clothed security personnel are patrolling the district.