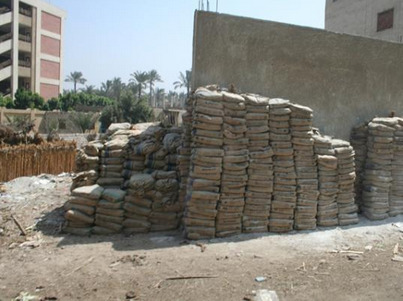 As inflation and energy shortages strike Egypt's economy, construction materials producers are feeling the crunch. The cement industry, in particular, finds itself in the midst of a growing controversy after Trade Minister Hatem Saleh accused private companies of exploiting inflationary pressures by raising prices "unjustifiably" earlier this month.
According to Beltone Financial estimates, local cement prices have gone from LE480 per ton on average to LE550 by the end of 2012. Now prices are well over the LE800 per ton mark.
In response, the government said it was mulling regulating the price of cement temporarily to promote fairness and curb price fixing, while the Shura Council urged the Consumer Protection Agency to take decisive action against cement factories accused of illegally hiking prices for profit.
The price surge has had devastating effects on the housing industry, especially for small contractors. The number of registered contracting and building companies has fallen from 41,000 to 14,000, according to Mohamed Abul Enein, secretary general of the Egyptian Federation for Construction and Building Contractors.
Some closed up shop while others reported bankruptcy as a result of these price hikes and the deteriorating security situation, Al-Masry Al-Youm reported recently.
In an effort to curb price hikes, the Ministry of Industry and Foreign Trade placed a levy on exports. Meanwhile, military-owned Arish Cement said it would cap prices at LE600 per ton.
Alexandre Goudineau / Egypt independent
More : http://www.egyptindependent.com/news/cement-price-surge-puts-damper-construction-materials-sector