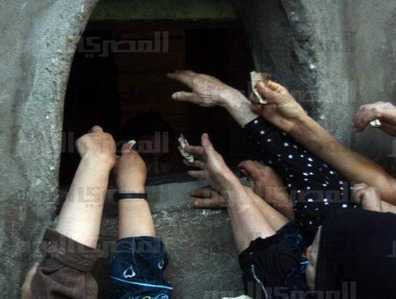 Bread shortages are not new to Egypt, with the most acute crisis of the not-so-distant past occurring in 2008. Since then, shortages of the vital food supply have been recurring, and, at times, the army has been deployed to deliver the gap in supply. (...)
Subsidized bread is priced at 5 piasters, and is a staple food item for the country's lower- and middle-class citizens. At times of crisis, this segment, which represents 80 percent of the population, suffers endless queues and fatal fights over bread.
Often, the government has blamed the supply shortages on black market bread sales, as well as the smuggling of flour and wheat, blaming bakery owners and accusing them of profiteering.
In what the ministry is selling as a bid to curb black market sales and ensure that subsidies reach target beneficiaries, a new policy has been created, whereby subsidies on key ingredients have been lifted, thus removing incentives for bakers to trade them on the black market. Private bakeries are being asked to sign on to the new contracts.
But it has been a hard sell. On 19 March, hundreds of bakery owners stormed the Supply and Internal Trade Ministry in downtown Cairo, protesting the new policy, as well as the rise in prices of gasoline, diesel and flour. Their most significant complaint is the raising of the cost of production of one sack of flour from LE80 to LE120.
They say the government, the sole supplier of wheat and other ingredients used in bread making, is looking to lay the burden of lifting subsidies on bakers, as well as failing to consider the actual production cost.
Omar Halawa / Egypt independent
More : http://www.egyptindependent.com/news/bakery-owners-decry-new-system