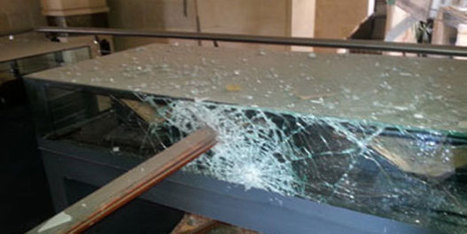 By ALAA OTHMAN
CAIRO: The Egyptian National Library and Archives, which was damaged during blasts that shook its neighboring Security Directorate on Friday, is not simply an archive.
Rather, it represents the memory of the nation, and a history book containing Egypt's storeroom of knowledge, so that damaging it is damaging a rich Egyptian history and heritage of dedicated scholarship.
It is the first and the largest national library in the Arab world, and was founded in 1870 by a decree from Khedive Ismail, through an initiative from Ali Mubarak Pasha, the Minister of Education at the time.
It was founded mainly to house manuscripts and rare books endowed by Sultans, Emirs and scholars to mosques and mausoleums, modeled after the national libraries in Europe.
In 1904, the contents of the Egyptian National Library and Archive were transferred to the current building in the Bab El-Khalk district, which was recently renovated in 2006. The Building was then converted to a library specialized in Eastern studies.
It houses Turkish and Persian manuscripts, along with Islamic papyri and instruments. Later, a museum of heritage relics, which houses rare manuscripts, ancient copies of the Quran, maps and significant instruments was annexed to the building.
Several well-equipped research halls have been added to the building to allow visitors to view heritage books, eastern language books, encyclopedias and translation books.
The building also includes a museum that houses several rare manuscripts in the fields of religion, medicine, astronomy, literature, language, written in several languages, including Arabic, Turkish and Farsi. The museum also houses copies of the Quran, with magnificent calligraphy art, papyri and portraits of calligraphy, coins and maps.
Originally published in Youm7.