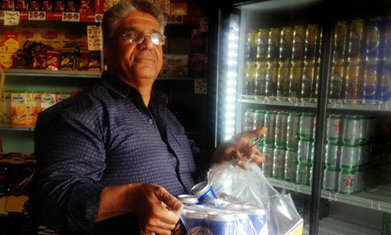 Drinkers say rises in taxes on beer and wine suggest hardliners are gaining more power in Mohamed Morsi's government

Last month, Egyptian authorities announced plans to ban alcohol sales in new developments outside Cairo. Most worryingly (...), they said existing licences would not be renewed in towns beyond the capital – towns such as 6 October City, a satellite development built in 1979 of about 1 million people.
To add to the gloom, the government doubled beer tax to 200% this month, with wine tax rising from 100% to 150%.

Then last Monday, the civil aviation minister mooted banning alcohol from duty-free shops in airports.

For many liberals, this triple blow adds to the impression that Egypt's Islamist-led government, headed by President Mohamed Morsi, intends to turn the country significantly more conservative.
"If this government continues on this same path, we'll be like Saudi Arabia," said Akram, assistant manager at Charwood's – one of a handful of restaurants that sell alcohol in 6 October City – who preferred not to give his surname. (...)
But other restaurateurs were more relaxed. "It's not relevant," argued Rafaat Habib, manager at the nearby Piccolo Mondo,(..)
Habib's nonchalance may also derive from a wider expectation that the authorities lack the political will to enforce new licensing legislation."The thing about licences – it's a thing to scare people," said Ramez, stocking his fridge with a recent Stella delivery.
In any case, for all the talk about Egypt's Islamisation, countered one of Ramez's customers, many Egyptians would not adhere to a licensing ban. "It wouldn't make a difference," said Emam Hussein, a logistics manager, popping in to buy vodka. "There are tonnes of people who drink, even the religious. There are tonnes of Copts and tonnes of Muslims who drink underground."
More on: http://www.guardian.co.uk/world/2013/mar/24/egyptian-alcohol-sales-cairo