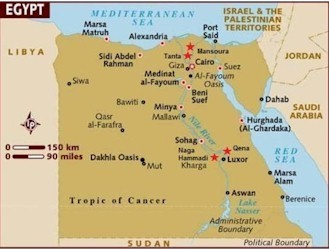 Two Germans were among 10 people injured in a car accident in Qena governorate in southern Egypt early Tuesday, security sources told Xinhua.
"The accident occurred when a bus crashed with a truck on the desert way to Souhag governorate," said the sources.
"Some of the injured are in critical condition" and have been transferred to Abu Tesht Central Hospital, the sources added.(...)
The lack of highway security monitoring system, poor road maintenance and the ignorance of traffic rules are behind the high rate of road accidents in Egypt.
More on: http://www.china.org.cn/world/Off_the_Wire/2013-04/09/content_28492341.htm