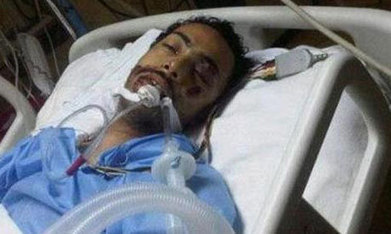 Forensic committee formed by Egyptian prosecutors shows that slain activist Mohamed El-Gendy died from torture, not from a car crash as ministry of interior claimed.
A forensic committee stated on Wednesday that the death of activist Mohamed El-Gendy resulted from torture and not from a car accident, as a previous forensic report had asserted.
El-Gendy, 28, was a member of opposition group the Egyptian Popular Current.
He was arrested along with several protesters during anti-government rallies that took place on the second anniversary of the January 25 revolution.
Security sources later told Reuters that El-Gendy was taken to a state security camp where he was interrogated and tortured.
However, the interior ministry denied the accusations, saying that El-Gendy was hit by a car on 28 January and taken to Cairo's Hilal Hospital where he died some days later.
More: http://english.ahram.org.eg/NewsContent/1/64/66261/Egypt/Politics-/New-forensic-report-shows-ElGendy-died-from-tortur.aspx