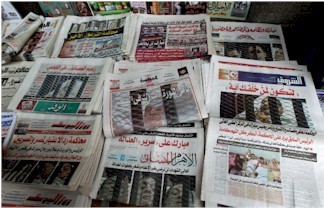 A tiny editorial team, made up of myself and two marvelous colleagues, had been setting it up for months. We had started from scratch: When we began, there was no office space or computers, and extremely inadequate technical backup.
We were the newest addition to the plethora of media products published by the country's largest state-owned media organization -- some 18 newspapers, magazines, and journals, including the flagship daily, Al-Ahram. As such, we warranted minimal resources -- we were just a speck amid the mega-organization's bloated bureaucracy, which even now employs nearly 2,000 journalists and thousands of administrators and workers. Even the enthusiastic support of the then newly appointed chairman of the al-Ahram organization -- a modernizer who hailed from a scholarly background -- could do little to overcome the hurdles of ineptitude and wastefulness that had solidified over decades.

But despite it all, we had a deadline to meet. Parliamentary elections were at hand, and I resolved that Ahram's new English-language news portal would begin with a bang. At the time, this was as exciting as Egypt's dreary political life got: I was convinced the vote would be disastrous, and I was soon proved right. Hosni Mubarak's ruling clique had decided that the Muslim Brotherhood, which had won an unprecedented 88 seats in the 2005 elections, had overstayed its welcome, and manipulated the constitution to muscle the Islamist group out of the next parliament. (...)
At one point, the editor of the flagship Arabic daily, al-Ahram, appeared at the door of our newsroom, asking to see me. "I just had [then Interior Minister, Habib] El-Adly on the phone with me, complaining that Ahram Online is making a scandal of the elections, and that foreign correspondents are tagging behind Ahram Online and rushing to polling stations where you report violence or irregularities," he told me.
The censure by management went so far as to objecting to the words "blow-by-blow" on our live blog, which they saw as implying violence. I made a half-hearted attempt to explain the English idiom, but was happy to concede the point, changing the words to "minute-by-minute." (...)
And herein lies the secret of my intermittent survival in Ahram, as managing editor and then chief editor of the English-language al-Ahram Weekly (from 1991 to 2005) and Ahram Online (from January 2010 to January 2013): I rarely take political differences personally. And I never interested myself in bureaucratic politics. (...)
More on: http://www.foreignpolicy.com/articles/2013/03/01/the_brotherhood_vs_the_free_press