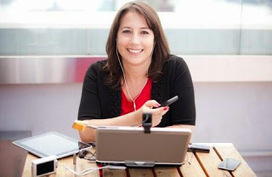 We are a society that seems to embrace balance without question. It is easy to speak those words or nod in agreement when others convey the sentiment. I mean, what can be wrong with balance? It seems easy to agree to this condition. If this has been you - STOP.


We don't need to balance technology with non-technology.Technology is a tool and resource that we have at our disposal to use effectively and efficiently for our needs. For many people technology is the way they do business, pleasure, fitness, and more, and that's okay.
If you're wondering why..
.
When you talk about reading books, do you often hear, "balance is key?"
When you talk about fitness, do you often hear, balance is key?
How about writing? How about talking to friends? How about networking with experts? How about playing chess? How about making documentaries? How about solving complex equations? How about social action? How about doing research?
All those things can be accomplished with tech though it often is not obvious to the observer. What looks like screen-staring is often something even Luddites can value.