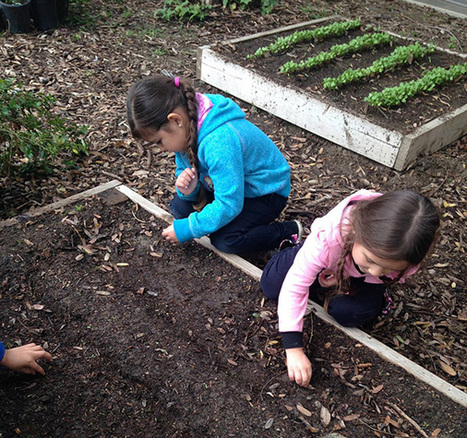 Today in El Monte and South El Monte, you can find a number of Asian supermarkets with signs that tri-lingually display the words: supermarket, siêu thị, and supermercado. This wasn't the case thirty years ago. When my family first arrived to the San Gabriel Valley as refugees, they couldn't find particular foods in the supermarket. So we grew them -- lemongrass, herbs, and other hard-to-find vegetables. Gardening was and still is a norm for my Vietnamese family. One vegetable grown in our yard was bắc hà, known as (and looks like) a "giant elephant ear." My dad uses it to cook canh chua (sour soup), a popular Vietnamese meal made of catfish, pineapple, and tomatoes, all simmered in tamarind-flavored broth.

At school, I got to experience gardening activities too. Though these activities were not frequent, they were memorable. In Mr. Marquez's 5th grade science class at Dean L. Shively Middle School, we germinated lima beans by placing seeds between wet paper towels and put them in ziplock bags, then transferred them into disposable cups. In Ms. L'Allemand's biology class at South El Monte High School, we had a garden where I was given a plot to measure, plant, and grow two items. I chose peas and carrots. Students were asked to document plant growth and when our vegetables were ready for harvesting, we concluded the unit by having a garden eating party.

Gardening at school and at home can provide young people with learning opportunities, lasting skills, and positive, memorable experiences. But perhaps most importantly, gardening can help foster healthy lifestyles and encourage healthy eating with more nutritious foods -- something that communities like South El Monte and El Monte urgently need.
Click headline to read more--
Via
Chuck Sherwood, Senior Associate, TeleDimensions, Inc
,
Luciana Viter