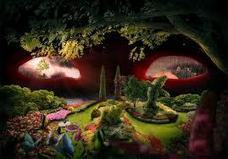 ...."A man's mind may be likened to a garden, which may be intelligently cultivated or allowed to run wild; but whether cultivated or neglected, it must, and will, bring forth. If no useful seeds are put into it, then an abundance of useless weed seeds will fall therein, and will continue to produce their kind." (James Allen, As a Man Thinketh)
The design of learning spaces that has been my focus helps afford the gardener with useful tools perhaps creating fences to keep things out or in, utensils to plant more effectively and efficiently, however, ultimately each teacher or gardener of the student mind has responsibility for the mind garden harvest.
The mind garden does have one advantage over the garden of soil in that the mind garden owner can help decide the growth. "My mind is a garden. My thoughts are the seeds. My harvest will be either flower or weeds." (Mel Weldon) Don't we all have a mind garden needing assistance to grow and responsibility to help others grow a prosperous mind garden?
(click through for more)