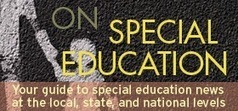 Education Week reporter Nirvi Shah tracks news and trends of interest to the special education community, including administrators, teachers, and parents.
"Extra-wide letter spacing could be a simple, efficient way to improve the reading ability of children with dyslexia and could encourage these kids to read, further improving those skills, a group of Italian and French researchers say."
"Extra-wide letter spacing doubled students' text-reading accuracy and increased their reading speed by more than 20 percent."
Sounds like a good solution for some!