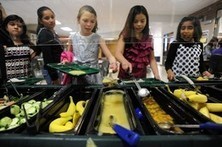 Obesity is so entrenched in the U.S. that it will take an intense push by schools, employers, doctors and others to reverse an epidemic that accounts for billions of dollars in annual health-care costs.
"Schools, in particular, should be a "national focal point" for obesity prevention, because children spend up to half their waking hours and consume as many as half their daily calories there, the report said."
I agree! We need healthier lunches and more physical activity in school.