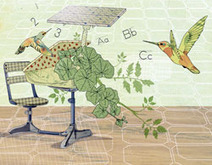 Credit: Allison Kendall
Green schools are emerging around the country, and they are nothing short of spectacular.
"Good ventilation, daylight, cleanliness, reduced noise -- all attributes of green design -- are not merely aesthetic improvements; they can actually promote better educational outcomes."
I wonder how many there are in this area...