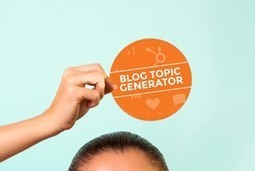 Ever get writer's block? Here's a free tool that'll help you kick it to the curb.
The tool won't just come up with ideas willy-nilly. Blog topics will make or break the success of your blog posts -- so your topics will be both search-friendly and interesting to your audience. Using keywords you provide, the tool will come up engaging titles tailored to those terms. That way, you're always featuring relevant, but interesting posts on your blog
.If you're one of those types who likes to dive in and play around with it immediately, go on: try it out for yourself. If you're the type who likes to be walked through using tools step by step, that's cool too. Just keep reading....
Via
Jeff Domansky