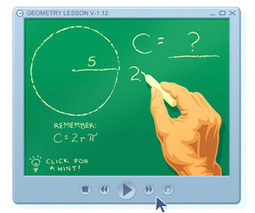 By Katie Ash
"The term "flipping" comes from the idea of swapping homework for class work. Students typically are assigned the video-watching for homework, freeing up class time that used to be spent listening to lectures for hands-on activities and application of knowledge, which used to serve as homework.
"However, as most educators who have begun to use the technique are quick to say, there are a multitude of ways to "flip" a classroom. Some teachers assign a video for homework, while others allow students to watch those videos in class. Still others make videos for the lesson, but do not require students to watch them at all, giving students a variety of resources and allowing them to choose what they utilize to learn the required information.
"But just as the Khan Academy has recently come under fire from some in the education blogosphere for what critics say is flawed pedagogy, the flipped-classroom technique has also garnered criticism from some who believe that flipping is simply a high-tech version of an antiquated instructional method: the lecture."
Via
Jim Lerman