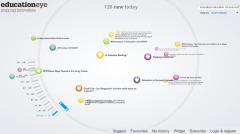 Keep up to date with the latest education developments with this clever tool from Future Lab.
"Futurelab's Education Eye brings you a wide range of exciting, relevant and usefull innovations which are selected from the best of the web and updated daily.
The eye provides a way to discover, explore and share new ideas. It maps hundred of the top educational websites, blogs, forums and practioner case studie. With additional features like saving your own favorite innovations, Futurelab's favourites, customisable email digests, and a widget version, it is invaluable."
Via
ICTmagic