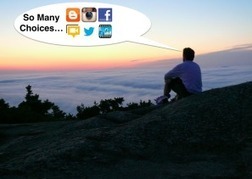 As I look for entry points in working with school leaders just getting their feet wet with digital tools, I sometimes struggle to pinpoint the best place to start. I guess it is because there are so many useful tools out there that my colleagues could utilize to help them to change their workflows for the better. However, the important thing is not the tool at all.


The important thing is that educational leaders are modeling the fact that they too are continuous learners who are striving to employ the most relevant resources that they can access to do their jobs.


In tackling this dilemma, I have decided to look at a few of the functions that school leaders perform and provide a couple of tools that can not only assist them but also help them model the integration of digital tools into their daily routines. Again, I am looking to stay away from a specific solution and instead list some of the options that are available for particular tasks. Choices are a good thing, so let's embrace the fact that we live in a day and age where we have them!
Via
Edumorfosis