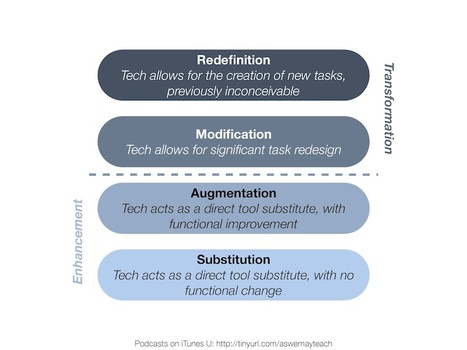 The start of term has quickly come around and it has certainly been a busy one. I have been in 6 schools already and there is certainly a great deal of enthusiasm about using the iPad to support learning.
I blogged a few months ago about choosing the best apps for use in the classroom and finding ones that allow for wide use across the whole curriculum rather than closed content apps that have one specific purpose. In July I attended the ADE conference with Apple and there was lots of discussion about the SAMR model (pictured) which is a theory highlighting how technology can be used in education. It starts at the bottom with Substitution (my example of which would be a simple eBook with no interactive features or an app with a moveable clock face) and moves up to Redefinition. Redefinition is the goal for technology in education; to be able to create new tasks that are not possible without the use of technology. I have been discussing this with teachers on my training and thinking about it in terms of my own teaching.
When planning lessons and training I have been keeping in mind the SAMR model. What has struck me instantly in both cases is how streamlined everything becomes. The school iPads have been reduced to apps which cover just over one page with apps like Book Creator, Explain Everything and iMovie forming the core. Pupils creating a book that includes video, voice-overs and images is not possible without technology and the iPad has proved to be a master at this type of activity. It may be worth considering the SAMR model next time you are looking for education apps on the app store.
Book Update
In line with the streamlined approach to using the iPad in Primary Education, my book: A Guide to the iPad in Primary Education has recently been updated to include less apps and more activity ideas. The September update will include over 40 minutes of video tutorials and will be updated for free every month from here on in. It is available for £3.99 on the iBook Store and the update will be available shortly. Please follow this link.
https://itunes.apple.com/gb/book/guide-to-ipad-in-primary-education/id577989200?mt=11

Have a good start to term.
Via
iPad Teachers