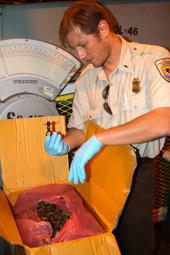 The United States plays a major role in the illegal wildlife trade. Demand for these animals and products are high here, and countless thousands of them come into our country every year. Thousands more travel through it, on their way to other destinations.
Inspector from the Elizabeth, N.J. Office of Law Enforcement checks dried frog shipment, © Bill Butcher/USFWS

Defenders recently analyzed a decade of data on the illegal trade coming into the U.S. from Latin America. We found trade patterns, identified the top impacted species, looked at the products most often smuggled, and more. But perhaps the most urgent of all our findings was that the U.S. Fish and Wildlife Service (FWS) is alarmingly under-equipped to combat this illegal trade at and within our own borders. In addition to educating consumers and strengthening wildlife laws, we need to increase our law enforcement capacity to combat wildlife trafficking into and out of the country.