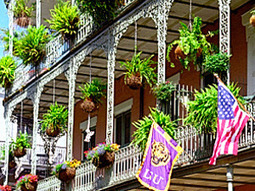 From nature preserves to eco-friendly hotels and sustainable building projects, there are plenty of examples of green businesses and recovery in the greater New Orleans area.
As noted in my last blog, I'm suggesting that travelers visit New Orleans to participate in the revival of this iconic place. Your visit will support the recovery of a city in which tourism is the largest and most crucial economic sector.
To sweeten the deal, here are some recommendations for eco-touring in New Orleans and environs...
Via
Lauren Moss