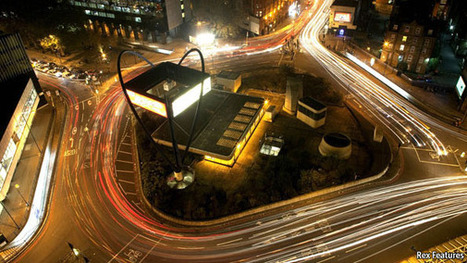 BRITAIN'S politicians lament its loss of industrial prowess and cringe at its gift for banking. One kind of enterprise that cheers them is the creative sector, which has grown twice as fast as the rest of the economy over the past decade. Fashion, entertainment, advertising and digital technology are all strengths. Britain was well represented at this year's South by Southwest, a music and film festival in Texas—where, on March 11th, it was announced that Jimmy Wales, the founder of Wikipedia, would join the government as an adviser. George Osborne, the chancellor of the exchequer and a culture vulture, has taken an interest in the sector since his days in opposition.
The creative industries are less popular with investors. Banks and venture capitalists tend to regard the sector as riskier—and less motivated by profit—than more humdrum parts of the economy. "The mindset of a creative entrepreneur and your average investor are poles apart," says Andy Heath of Beggars Group, an independent record label. A report for the government by Stuart Fraser of Warwick Business School found that creative firms are likelier than other businesses to be discouraged from even applying for finance.
Something of a fightback against the doubting money-men has begun. The sector is increasingly quick to challenge assumptions about its riskiness. Figures unearthed for the Demos think-tank last year by Helen Burrows, a former adviser to Ed Vaizey, the culture minister, showed that the survival rate for creative start-ups is slightly higher than for other young businesses. Survival is not the same as success, of course. But the numbers suggest that creative entrepreneurs are hard-headed about cutting costs during tough times.