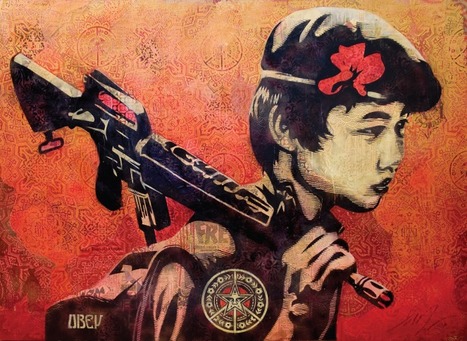 Exclusive Scoop.it SEO Conent

It has been a good long run. I've fought, cajoled and convinced. My life in SEO was challenging and rewarding. All things end and so does SEO. Search Engine Optimization has been stabbed twirled and stabbed again. I come not to praise SEO but to bury it because:
Google Wants SEO Gone
Panda and Penguin's Google latest algorithm changes are a response to the explosion of signals, of BIG DATA. Google had to calculate faster or fall immeasurably behind. Even if Google didn't want the elimination of the SEO industry they built their desire is moot. The SEO industry is dead because of the math. When your well researched and optimized pages make up 25% of your website's signals they matter. When your SEO efforts make up .0001% of the signals about your site whether you have the right title or not is moot, over, done. Well maybe not your title as those are still VERY important, but you get the point.
Google is smart enough to take credit for the inevitable. Telling you to stop something when they can't really read it anymore seems intelligent and bossy (not unlike Google). I've made millions online for grateful empoyers doing what Google tells me to do.
SEO's Marketing Advantage Is Gone
I realized something today. I wrote a quick post on if social media marketing can make your company smarter on Atlantic BT's blog: http://www.atlanticbt.com/blog/can-social-media-make-your-company-smarter/ . Writing I realized how many of my once great advantages are gone. Advantage is eliminated when everyone knows and does something. Once you know how to research keywords, write title tags and optimize on page copy as well or better than me advantage is lost. As acceptance climbs advantage is lost.
The Float of Social/Search
Google did the smart thing. Instead of being drowned by social signals they coopt them, they grudgingly accept Facebook and Twitter until G+ plus is up to the task of eliminating them. In a modeled system, and everything search engine is modeled now since the data set is too large to do anything else, we must take the wizard's word for the fairness of how he flips our coins in infinite space. Once G+ has a large of enough social set the need for actual data from other social nets goes away. The entire entire ecosystem can be modeled by the Ph.Ds and the Plex.
Google's modeling won't be 2 + 2 = 4 accurate but who lives there anymore? Once Google floated their index breaking the link to any absolute #1 position what you see is different than what I see even if we type the same keyword at the same time. This massive move changes everything. Once the index floats GOOGLE owns it not Google plus a tribe of users. Only Google has the key to the house now. We are and will always be necessary evil guests.
Where we once had say and could chart our progress from lowly sprite to advanced SEOs only Google sees behind the curtain of our progress now. Once the index floats what is real? A: Whatever is happening now expressed in analytics. The only way to land a website's SEO plane post the float is with instruments in a modeled 2nd Life of a world, Pandora for SEOs.
Social Signals Overwhelm The Web
Eric Schmidt said we create as much content now in 2 days as from the beginning of man until 2003. Amazing factoid he shared in 2010! Today seems miles and years away from 2010. Data is flying everywhere as a strange nexus ties disparate elements together at the speed of light. The sheer size of the wall of data, and these days will seem like the good old days in 5 years, is staggering.
The truth of the web is what is happening now, but your NOW and mine aren't the same anymore. You see it right? The sword in the stone Google created for itself? When they float GOOGLE CUT DOWN the data they had to process. Google uses advanced statistical and predictive models to know a virtuall world. Google processes a piece and forms conclusions about the whole, Google float data on an endless Sargasso Sea never reaching shore in a constant state of roil. Since Google and only Google "owns" the float no one has any data to their contrary. Whatever is happening now is real and what is supposed to be happening (to quote Eckhard Tolle). Point is we will never know one way or the other now. Only one wizard allowed to live in this house now and there is a large G on his pointed cap.
Semantic Web Understands Meaning, Culture and Time
Did you see the crossword puzzle contest a few months ago where people crushed an advanced computer? If you watched Watson crush contestants on jeopardy you remember laughing as Watson adjusted its idiom meter. Sounded funny to have such an advanced machine not understand humor or sarcasm. The laughs died fast as Watson played the piano keys of knowledge only a super computer knows how to play. Once the "rules" of semantic context are mastered, and they will be in short order, we are close to Asimov's Foundation Series and his famous 3 Laws of Robotics.
Screaming, Loud Noise Means Only The Real and Shared Get Through
Ever been in a crowded room, a room so impossibly crowded you are sure if one more person comes in you will pass out. Suddenly 10 more people come into the crowded space and one of them is your mother. Not only can you immediately SEE your mother but also you relax even though she may as well be on the moon for your ability to get to her through the throng.
This is the analogy for the room we Internet marketers shout into these days. Problem is no one has the lung capacity needed to be heard over the din. Instead, if we want to get a message over to your mother you need to send it person to person. You must create a tribe of helper agents IN REAL TIME. We give our genetic dance to the worker bee standing next to us and they pass it over to mom. Once noise reaches this level more noise only makes the person speaking look foolish and out of touch.

I come not to praise SEO but to bury it. I admit the fun of the wild crazy ride we've been on. Vaya con Dios SEO :).M