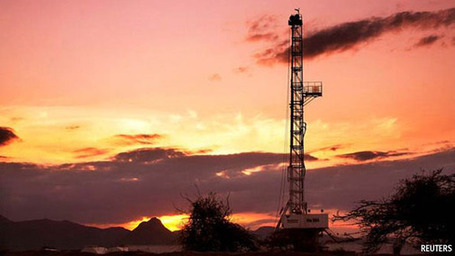 IN ENERGY terms, east Africa has long been the continent's poor cousin. Until last year it was thought to have no more than 6 billion barrels of proven oil reserves, compared with 60 billion in west Africa and even more in the north. Since a third of the region's imports are oil-related, it has been especially vulnerable to oil shocks. The World Bank says that, after poor governance, high energy costs are the biggest drag on east Africa's economy.
All that may be about to change. Kenya, the region's biggest economy, was sent into delirium on March 26th by the announcement of a big oil strike in its wild north. A British oil firm, Tullow, now compares prospects in the Turkana region and across the border in Ethiopia to Britain's bonanza from the North Sea. More wells will now be drilled across Kenya, which also holds out hopes for offshore exploration blocs.
Kenya's find raised less joy in Uganda, where oil was first struck in 2006. Tullow, together with China's CNOOC and Total of France, will start pumping it next year, initially at a paltry rate of 5,000 barrels a day (b/d). But the Lake Albert basin, which straddles the border between Uganda and Congo, holds over a billion barrels of proven reserves and possibly twice that in potential finds. Uganda has always played Oklahoma to Kenya's Texas. It believed its bonanza had for once put it at an advantage: instead of importing oil through the Kenyan port of Mombasa, it would build a refinery and export petroleum products to Kenya at a premium. Uganda still has a head start, but Kenyan officials now see their country as a regional hub that combines geographical advantages, and its own newly discovered energy resources, with tax breaks, skills and services.