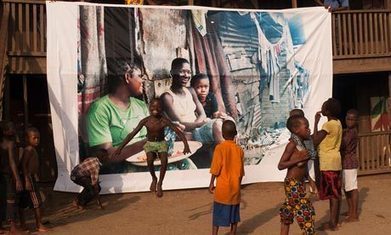 Photographers love Lagos's floating slum for its colour, canoes and poverty.
The Silent Majority project works very differently. Started in 2010 by Adolphus Opara and Olusola Otori, the project gives children the opportunity to express themselves and develop their creative skills. The pair are both Lagosians. Otori trained as a painter and Opara is a documentary photographer.
For the exhibition, Otori and Opara ran workshops for teenagers in Makoko twice a week for six-months, teaching an awareness of formal aspects of image making and the basics of photography. From the initial 15 students, five made it to the end. Works by four of them – Anthony Monday, Afose Suleiman, Mary Awajinumi, and Peter Onge – are now on show in their own neighborhood.