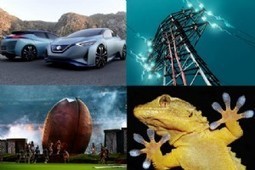 Plastic bag 'chaos' hits England, Waitrose turns grass into egg boxes and Ford mimics a gecko. Take a look back at October's most talked about sustainability news stories in edie's latest gallery round-up. - edie news centre
Meanwhile, the solar sector continued its fight against the Government's punitive subsidy cuts throughout the month, with big businesses, green groups, NGOs and politicians all voicing their concerns. And the automotive industry continued to do all it can to move past the recent emissions scandal as car giants introduced a host of new green initiatives.
October was also the month that England followed in the footsteps of the rest of the UK by introducing a 5p plastic bag tax for large retailers. Was there 'chaos' at the checkouts, as some of the nationals predicted?
Finally, proving that sustainability takes a backseat to no one, edie made sure that the Rugby World Cup was put under the green microscope; extrapolateing 10 sustainability facts that you might not know about the participating nations...
So, take a look through all of the month's most-read news stories in our exclusive gallery, and click the links in the descriptions below to read them for yourself.