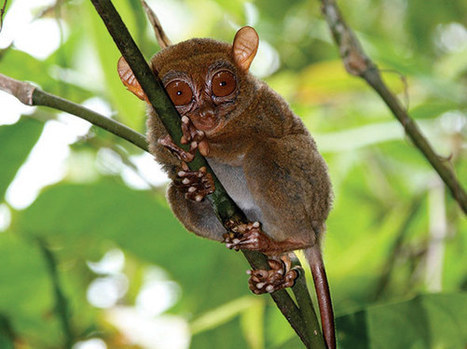 Meet the Dinagat-Caraga tarsier, a distinctive evolutionary lineage of primate that has just been discovered from the southeastern Philippines by an international team of biologists working with th...
The tarsier—which is technically not a monkey—is known only from the small island of Dinagat, and the adjacent northeast corner of the larger island of Mindanao to the south, says a news statement about the research published today in the open access science journal PLoS ONE. "With its giant eyes, fuzzy face, and prominent ears, the discovery will no doubt attract attention as an adorably cute new ecotourism focal point—much like its furry cousin on Bohol Island," says the statement released by the Biodiversity Institute of the University of Kansas on behalf of the institutions involved in the study.
The discovery identifies an important new example of a "conservation flagship species" that has the potential to increase public awareness of the Philippines' astounding resident biodiversity, says National Geographic grantee and project leader Rafe Brown, of the University of Kansas. "If protected by the Philippine government, [it may] extend protection like an umbrella to the many species of unique birds, mammals, amphibians, reptiles, plants, and invertebrates that share its rain forest home."
The findings will restructure conservation targets in Philippine tarsiers, placing much greater urgency on the populations of Dinagat Island, and nearby Mindanao Island's Caraga Region, in addition to the already protected populations in other parts of the species' range, Brown predicted.