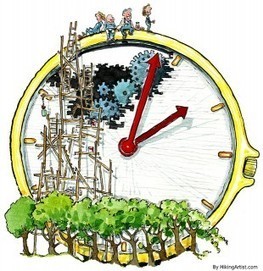 Abundance is the natural state of the world and we can improve the lot of all humanity while also allowing the biosphere to thrive
The problem is that the global economy itself is not conscious. In a very real sense it is insane – we trade the living land for dead money and sit clutching our coins waiting for the reaper. If we work in this economy unquestioningly are we insane too? If we choose another way, what options are available to us?
Transition Towns, New Earth Communities and other conscious communities worldwide are demonstrating new ways to live and organise ourselves. They advocate for us to move away from notions of fear and scarcity and the hoarding that come with them, and build new economies that are more abundant, equitable and ecological.
The New Economics Foundation details how such economies could work. For example, they just published a book cataloguing diverse research that shows how a shorter working week would help tackle urgent problems that beset our daily lives – from overwork, unemployment and low wellbeing, to needless high-carbon consumption and the lack of time to live sustainably. Less work for purely economic gains would allow us more time to care for our families and communities, grow more food ourselves and, slowing the economy, give Gaia a break.
In a less competitive economy where people are happier, we might also vote for a Universal Citizen's Income that would redistribute to the poorest and stimulate creativity across society. Freed from the bondage of the endless growth economy, what else might we do?