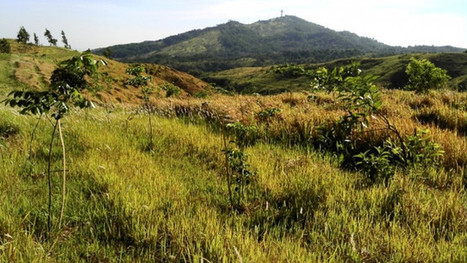 Civil society organizations point to corruption and the wrong mindset as threats to the success of the National Greening Program
Groups like the Philippine Tropical Forest Conservation Foundation Inc (PTFCF) and Foundation for the Philippine Environment (FPE), civil society partners of the DENR, said a majority of trees being planted are exotic trees like mahogany, gmelina, and rubber – trees that are fast-growing but less adaptive to the Philippine environment.
"We were alarmed with the breakdown of what species would be planted. They told us because they are fast-growing. Second, that there are no planting materials. On both counts, we challenged them," said Jose Andres Canivel of PTCFC.
Here's why native trees are better, according to Canivel.
They are better adapted to local climate conditions since they naturally grow in the country in the first place. This makes them stronger and more resilient in the long run.They have higher resistance to pests and typhoons. In Albay, exotic trees fell after Typhoon Yolanda passed through. The native trees lost many of their leaves but remained standing.They are more effective in promoting biodiversity. Some types of birds don't make nests on exotic trees. In some cases, undergrowth do not grow where exotic trees are planted. Native animals are also more likely to eat the fruits of indigenous trees.Many Philippine native trees are high-value trees which can command good market prices, eventually aiding in the poverty alleviation component of the NGP which seeks to provide livelihood for communities through forest products.Native trees are the types of trees planted by most indigenous peoples and community groups. If the NGP prioritizes native trees, these groups will get the benefits. In comparison, exotic trees are usually sourced from commercial suppliers.