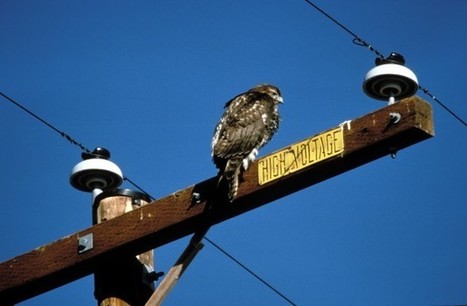 Tasty and easy to find, the heath hen was a favorite dish of America's colonial settlers. This beautiful little bird, however, was no match for …
Today, the new urban infrastructure spreading across the American landscape represents bird hazards the colonists never dreamed of, such as skyscrapers, power lines and speeding cars. In addition, the danger has spread to a wider range of species, not just those that humans find tasty or of economic use.
Tall buildings and bright city lights are one lethal combination that today is killing hundreds of millions of migrating birds each year, saysBrian Schmidt, an ornithologist at the Natural History Museum. During spring and fall migrations, city lights interfere with a bird's ability to navigate at night by the moon and the stars.
"They can't see the skies," Schmidt says. "Bright lights attract birds, especially in the early mornings, and when the lights reflect off of buildings birds can't tell solid windows from open sky, so they fly right into them. They usually collide with so much force that it causes blunt force trauma or a concussion that kills them."
In a second similar study published in May in the Journal of Wildlife Management, the scientists took a comprehensive look at bird deaths caused by collisions with cars in the United States. Previous estimates of these deaths had been based on a single study done in Great Britain. Their new estimate of between 80 million and 340 million auto-strike bird deaths annually in the U.S. is based on some 20 mortality rates taken from 13 independent studies.
Other causes of bird mortality that are being studied include pesticides, radio towers, cats and wind turbines.