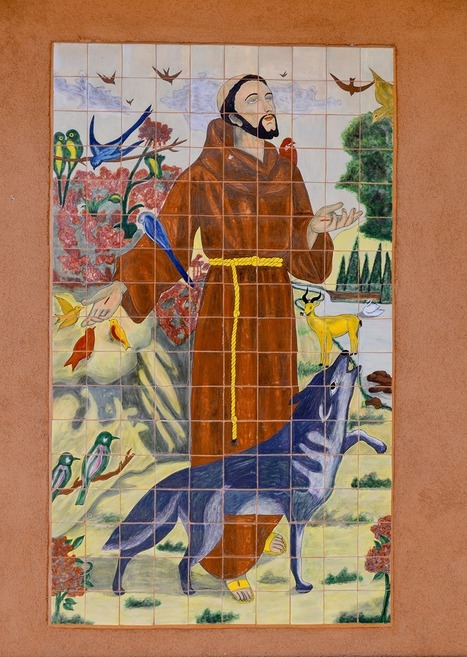 Pope Francis has called environmental exploitation the sin of our time. He is working on an encyclical about humanity's relationship with nature. Christiana Peppard, Assistant Professor of Theology, Science and Ethics at Fordham University and author of the book Just Water, discusses the Pope's call to "care for God's creation" with host Steve Curwood.
Well, one of the things that we've really seen with this papacy is that Francis is trying as hard as he can under the circumstances of his elevated post to remain pretty close to the ground. So he was known back when he was in Argentina for spending a pretty good amount of time in various impoverished communities. He's known now for, you know, driving a relatively humble Pope-mobile and not wearing fancy Prada shoes, and living in not too fancy quarters in the Vatican.
I think that his experience in South America, seeing the ways in which extractive industries and environmental degradation often have negative impacts for people living in situations of poverty, has informed a lot of his comments on the economy and on ecology more broadly. But I also think he understands his role as a kind of moral compass. There has not yet been an encyclical explicitly about the environment. There have been encyclicals that deal with the environment, sort of at this nexus of social justice, environmental degradation and economic development. And environmental degradation really is one of the signs of the times that no moral leader, or in this case theological faith leader, can afford to ignore.
It is a really strong statement. I mean for a Pope to say that deforestation and ecological destruction are the sins of our times is really throwing down a gauntlet. It prompts Christians, especially in the U.S., to think about how we understand sin and how we understand responsibility. So much of Western moral tradition, whether theological or philosophical, has really been based upon a very individualistic paradigm wherein I commit some kind of action, usually intentionally, and it's seen as wrong or sinful. In some sense we can ascribe a clear cause, a clear effect—there's someone who can repent for it, someone who is affected; there might be some mode of remediation. What's really interesting about applying the language of sin to environmental destruction is that there is not necessarily one person who is the sole cause of things. Causality is much more complex. It has to do with patterns of global economy, of governance, of incentive, of poverty, of the need for arable land and subsistence. And how we think about sin and in that context is complicated, and I appreciate that he's trying to complicate the picture.