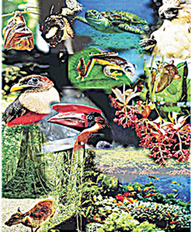 THE Philippines, an archipelago of 7,107 islands and islet, remains as one of the 17 mega-diverse countries in the world.
Yet, it remains as among the world's biodiversity hot spots underscoring that protection against the many threats to the country's unique flora and fauna cannot be overemphasized, Theresa Mundita Lim, director of the Biodiversity Management Bureau (BMB) of the Department of Environment and Natural Resources (DENR), says.
Here is why: A total of 148 species are on the list of threatened Philippine fauna, which include mammals, birds, reptiles and amphibians, found across the country. Of these, 24 are in the "critically endangered" category, including all species listed in Appendix I and 28 under the "endangered" category. This include all species listed in Appendix II of the Convention on International Trade on Endangered Species; 85 are under the "vulnerable" category; and nine more are in the "other threatened species" category.
The Philippines, having been tagged as one of the world's richest in terms of biodiversity, is fifth in the number of plant species and maintains 5 percent of the world's flora. It has high species endemism, which covers at least 25 genera of plants and 49 percent of terrestrial wildlife.
The Philippines is also fourth in bird endemism and has about 3,214 fish species, with about 121 endemic and 76 threatened species, according to data released by the DENR-BMB.