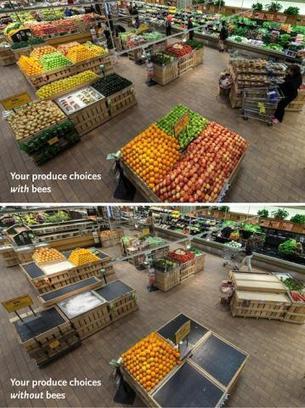 At least according to the famous quote: "If the Bee Disappeared off the face of the earth, man would only have four years left to live." There is deb
New research shows that the global loss of honey bees is increasingly caused by the use of agricultural pesticides, especially "neonotics" or neonicotinoids. Scientists believe the pesticides contribute to the loss of bees by impairing their ability to feed and weaken their immune systems. But does that mean if bees die humans die?
According to the UN over 70% of the worlds crops are pollinated by bees. Meaning without the the hard work of bees, plants wouldn't be able to fertilize. Basically meaning plants can't "reproduce" or "bear fruit". Hence the loss of bees would have devastating effects on the worlds agriculture.
The sad news is, it's not only the big farmers using these pesticides. Retailers are selling them to you. There is currently a petition from SumOfUs' activist beekeepers, demanding Home Depot and Lowe's (the big retailers) to stop selling the pesticide in the hopes that small retailers and competitors will follow suit.