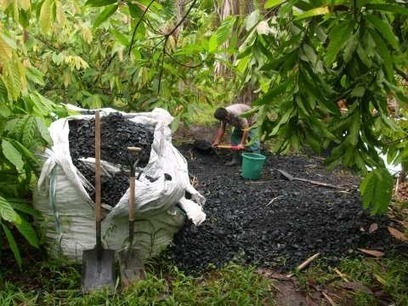 New research shows that biochar in soil strongly stimulates plant growth, more than doubling yields. However the extra growth may come at the cost of reduced plant defences against pests.
The response of more than 10,000 genes was followed simultaneously, and two growth promoting plant hormones - brassinosteroids and auxins, together with their signalling molecules - were stimulated by the biochar.
Professor Taylor said: "Our findings provide the very first insight into how biochar stimulates plant growth - we now know that cell expansion is stimulated in roots and leaves alike and this appears to be the consequence of a complex signalling network that is focussed around two plant growth hormones.
Biochar is produced when wood is combusted at high temperatures to make bio-oil and has been proposed as a method of geoengineering. When buried in the soil, this carbon rich substance could lock-up carbon and reduce greenhouse gas emissions, while also acting as a potent fertiliser.
The global potential of biochar is considerable. In principle up to 12% of human carbon emissions could be sequestrated by biochar soil application.