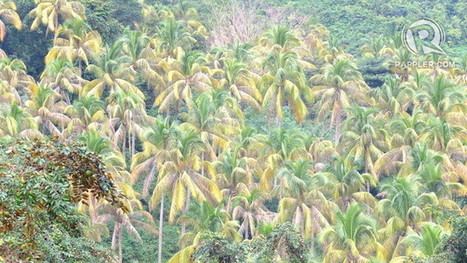 By the end of March, checkpoints in Batangas, Laguna, Cavite and Quezon will regulate the entry and exit of coconut goods
The pest causes the leaves to turn yellow, wilt and eventually fall off leaving a bald tree stump. The nuts fall prematurely. PCA scientists say the water inside the nuts taste sour. The insect reaches other trees when carried by the wind or when they come into contact with infested crops.
The species of scale insect has never been observed in the Philippines before. According to Forbes, this is why the PCA was unable to immediately contain the outbreak.
As of this February, the pest has infected a total of 1,087,983 infested trees in Laguna, Quezon, Cavite and Batangas, according to the report.
This is 20 times more than the number reported in March 2013 – around 54,000 infested trees.
The infestation was first spotted in Barangay Balele in Tanauan, Batangas. It was reported to the PCA in 2010 by which time more than 15,000 trees within a 15-kilometer radius were already infested.
By June 2011 – only 3 months after – the pest infected 11,000 more trees. By 2012, it had spread to two more provinces.
More than 328,000 coconut farmers in Calabarzon are affected by the scale insect outbreak. Also affected are the thousands who make a living from other coconut-derived products like cooking oil, livestock feeds, ropes, blankets, vinegar, handicrafts and furniture.
The Calabarzon coconut industry is the largest in Luzon, producing more than 1.5 million coconuts in 2006. That accounts for almost half (42%) of Luzon's total coconut production.