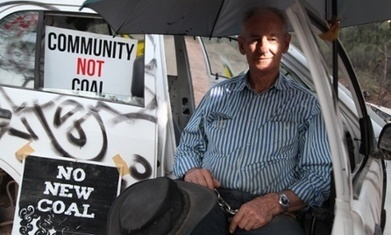 Protesters claim Maules Creek mine in north-west NSW will destroy critically endangered woodland in the Leard state forest (RT @guardianeco: Environmental activists blocking coal company from clear-felling state forest
On Monday, scores of activists linked to Greenpeace and anti-coal and gas group Lock the Gate blockaded four entrances to the site to stop trucks and other vehicles from gaining access.
They argue the Maules Creek mine will destroy irreplaceable critically endangered woodland in the Leard State Forest, draw down the aquifer used by local farmers and release thousands of tonnes of coal dust onto surrounding farms.
"Our civilisation needs the mining industry but in this case, they are just going to destroy a forest for the coal that they want under it," he said. "The state forest out here is too precious to sacrifice – there's not much of it left."
"Protests at our project sites are a nuisance but they will not deter Whitehaven from getting on with the job of building Maules Creek and delivering the substantial economic benefits which we know the local community strongly supports," he said.