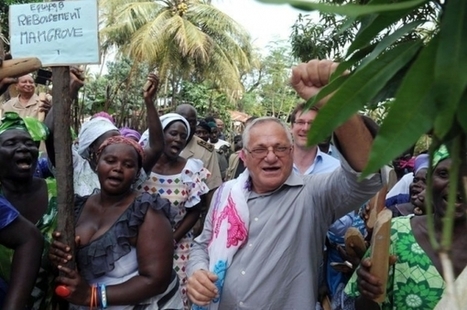 Mangroves bring wildlife back to Senegal coast
The Malay Mail Online
Senegalese ecologist Haidar El Ali stands with militants asking for the reforestation of the mangrove in Tobor, on September 13, 2013.
"There has been nothing here since the 1960s and 70s. Replanting is bringing back the mangrove," said Simeon Diatta, the chief of Diakene Diole village near the Guinea-Bissau border, pointing at riverside vegetation.
Since 2006, reforestation has revived 12,000 hectares (30,000 acres) of mangrove in Senegal — an area larger than the city of Paris — mainly in Casamance but also in the north and centre of the country, according to official figures.
"I am struck by the extraordinary success that this initiative represents," French Development Minister Pascal Canfin said on a recent visit to Casamance, descriving the programme as "model for Senegal, Africa and the world".
The swamps provide a nursery area for many marine species, most of which are important for food such as fish, crabs and shrimp.
In the nearby village of Diakene Ouolof, resident Mariama Tine said "everything was dead" before the replanting programme began.
"The mangroves stopped the advance of salt and we were able to recover rice fields. There were no fish here before but we are starting to get a lot of them, along with oysters and ark clams," she said.