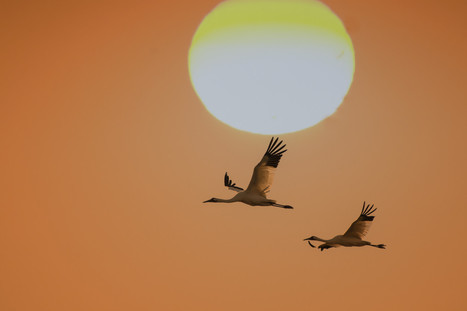 We can't live without birds. Beyond being fascinating and beautiful, they play a crucial role in keeping the world habitable for all life, including people.
Sadly, we're to blame for the current plight of birds. The report shows industrial-scale agriculture, logging and invasive species are the gravest immediate dangers. It also concludes climate change is an "emerging and increasingly serious threat to species" and "often exacerbates existing threats." Among other problems, a warming planet changes migration and nesting schedules, hindering birds' ability to find insects to eat. It also damages habitat. ...
While the BirdLife study identifies climate change as a major threat, it also notes the challenge in balancing environmental factors in energy-project development. Critics oppose wind power because of potential harm to birds, but bird deaths from windmills are minimal compared to those caused by fossil fuels, climate change, pesticides, highrise buildings, automobile collisions and house cats. A National University of Singapore study shows fossil fuel power generation kills 17 times as many birds per gigawatt-hour of electricity as wind power. And wind farm problems can be overcome with proper siting and improved design. In the Rift Valley/Red Sea flyway, an important area for birds migrating between Eurasia and Africa, BirdLife developed research materials and a web-based tool to map flight patterns and identify places where wind installations should be avoided to keep birds safer.