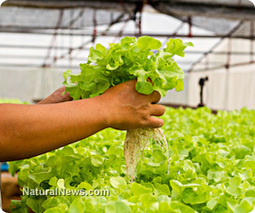 Aquaponics: Is this promising, sustainable farming method the urbanized future of agriculture? ... Five ways small-scale organic farming can save agriculture from America's 'greed for profit' system • Study: Organic farming ...
Because aquaponics is essentially a closed system, with the exception of fish food having to be cultivated or purchased separately, it can function independently, and without many of the normal inputs required for traditional farming. This means that a well-designed aquaponics system can be installed and operated virtually anywhere, including in dense urban environments -- high-rise rooftops, the tops of parking structures, and even basic parking lots are just a few examples of the many locations where high-output aquaponics systems can work.
This is good news for the many urban farmers with limited access to clean, unpolluted growing soils. A well-designed aquaponics system with stacked growing pods is capable of growing high volumes of fruits and vegetables -- according to Gaus, a 2,700-square-foot greenhouse farm he is currently building on a rooftop in Basel, Switzerland, is expected to produce more than five tons of fresh vegetables and roughly one ton of fish per year.