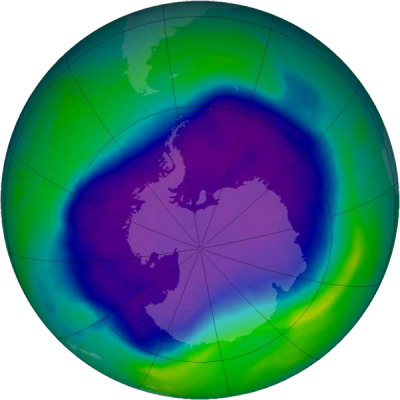 Examiner.comEnvironment: Antarctic ozone hole getting smallerSummit County Citizens VoiceSuomi NPP is a bridging mission leading to the next-generation polar-orbiting environmental satellites called the Joint Polar Satellite System, will extend...
This is the first year growth of the ozone hole has been observed by an ozone-monitoring instrument on the Suomi National Polar-orbiting Partnership (NPP) satellite. The instrument, called the Ozone Mapping Profiler Suite (OMPS), is based on previous instruments, such as the Total Ozone Mapping Spectrometer (TOMS) and the Solar Backscatter Ultraviolet instrument (SBUV/2). OMPS continues a satellite record dating back to the early 1970s.
In addition to observing the annual formation and extent of the ozone hole, scientists hope OMPS will help them better understand ozone destruction in the middle and upper stratosphere with its Nadir Profiler. Ozone variations in the lower stratosphere will be measured with its Limb Profiler.