Scoop.it!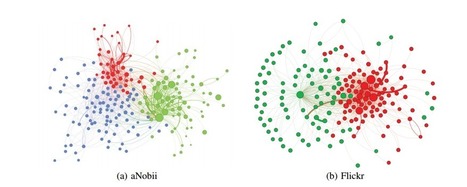 The ultimate goal: a truly computational understanding of human society, say Yahoo's computational anthropologists.
luiy's insight:
Today, Luca Maria Aiello at Yahoo Labs in Barcelona, Spain, and a couple of pals, change that. They tease apart the nature of the links that form on social networks and say these atoms fall into three different categories. They also show how to extract this information automatically and then characterize the relationships according to the combination of atoms that exist between individuals. Their ultimate goal: to turn anthropology into a full-blooded subdiscipline of computer science.
Aiello and co used two data sets from a pair of large social networks. The first consists of over 1 million messages sent between 500,000 pairs of users of the aNobii social network, which people use to talk about books they have read. The second is a set of 100,000 anonymized user pairs who commented on each other's photos on Flickr, sending around 2 million messages in total.
The team analyzes these messages based on the type of information they convey, which they divide into three groups. The first type of information is related to social status; messages displaying appreciation or announcing the creation of the social tie such as a follow or like. For example, a user might say a photograph is "an excellent shot" or say they've followed somebody or acknowledged attention they've got by thanking them for visiting a site.