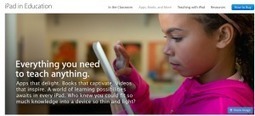 iPads continue to be important in K-12 education even with the growth of Chromebooks. Chromebooks are very new, so time will tell.
Some schools have a bring your own device policy, but that comes with a host of issues. A ton of schools have implemented successful 1:1 programs. And 1:1 certainly is not new, but has become more successful with iPads.
Learning should always be the focus and the device is just the conduit. But, iPads have had a positive impact on student engagement in and out of the classroom. When iPads are integrated w, the outcomes can be explementary.
Via
Tom D'Amico (@TDOttawa)