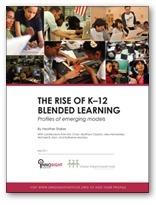 Full Text White Paper: By Michael B.Horn and Heather Staker With contributions from Alex Hernandez, Charter School Growth Fund Bryan Hassel, Public Impact Joe Ableidinger.
Online learning is sweeping across America. In the year 2000, roughly 45,000 K–12 students took an online course. In 2009, more than 3 million K–12 students did. What was originally a distance- learning phenomenon no longer is.
Most of the growth is occurring in blended-learning environments, in which students learn online in an adult-supervised environment at least part of the time. As this happens, online learning has the potential to transform America's education system by serving as the backbone of a system that offers more personalized learning approaches for all students.
In Disrupting Class,* the authors project that by 2019, 50 percent of all high school courses will be delivered online.
This pattern of growth is characteristic of a disruptive innovation—an innovation that transforms a sector characterized by products or services that are complicated, expensive, inaccessible, and centralized into one with products or services that are simple, affordable, accessible, convenient, and often customizable. Think personal computers, the iPod and mp3s, Southwest Airlines, and TurboTax.
At the beginning of any disruptive innovation, the new technology takes root in areas of nonconsumption — where the alternative is nothing at all, so the simple, new innovation is infinitely better. More users adopt it as the disruptive innovation predictably improves.