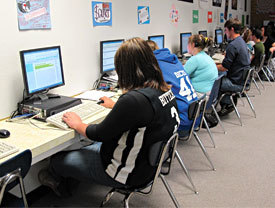 A quick reference on the science behind virtual schooling.
What the Research Says

In general, research on the effectiveness of online learning is showing that it is at least the equivalent of face-to-face learning and, in some instances, learners actually perform better online. Here are some of the findings:
In May 2009, the U.S. Department of Education released a meta-analysis ( 820K) that looked at more than a thousand empirical studies that compared online education with face-to-face instruction. The department's conclusion was clear: "On average, students in online learning conditions performed better than those receiving face-to-face instruction." These findings also held true for blended learning conditions when compared with face-to-face instruction. The reasons for increased performance included the following:
increased learning time
innovative curriculum and pedagogy
opportunities for collaboration and reflection
learner control over interactions with the media
It should be noted that these conclusions were drawn from research mainly conducted in career- and higher-education environments. There is still very little empirically validated evidence available for K-12 online-learning environments outside of individual case studies.