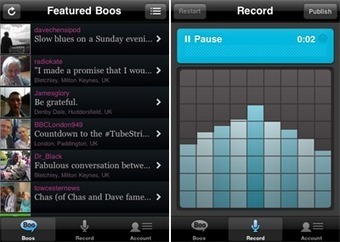 1. Myna
Myna, the online audio editing tool from Aviary, is perfect for audio editing on the go. The editing tool doesn't require any software installation, yet it has many of the same features as popular programs like Audacity and Adobe Audition.
...
2. Monle
If you have a smartphone, you likely have multimedia capabilities like the ability to shoot photos or record videos. With Monle, an iPhone app, you can add audio recording and editing to the list.
...
3. AudioBoo
AudioBoo, an application available for iPhone and Android, allows the user to record audio messages from a mobile phone and publish them online in what amounts to an audio blog.
...
Via
Barbara Paola Garcia
,
evangelina chavez