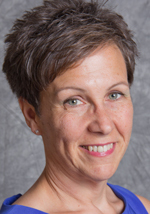 Susan Manning works in a virtual world.Since 2007 she has taught exclusively online for University of Wisconsin-Stout. It makes perfect sense: she teaches classes on the subject of online teaching.

"For me, the world of work has always been online," she said.
With no need to be on campus, Manning lives in Aurora, Ill. She has never been to UW-Stout, although she is very much a part of it because of daily interaction with students, faculty and administrators.

She will be representing the university in person, however, Thursday, Nov. 21, when she receives one of the highest honors available in her field, a national Sloan Consortium online teaching award.

"I'm very honored and excited to receive such a prestigious national award," said Manning, who cited administrative support from UW-Stout as a key to her effectiveness as an online instructor.

The award will be presented at the Sloan-C International Conference on Online Learning in Florida. Manning and a professor from the University of Vermont will receive the award. The Sloan Consortium is regarded as the leading professional online learning society.
Via
Dennis T OConnor