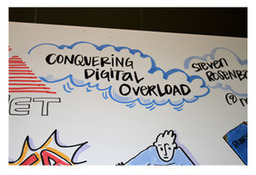 This is an excerpt from the article by Steve Rosenbaum and published by Huffington Post.
"The idea of SXSW as a metaphor for the growth and overwhelming abundance of the web is more than apt. No matter how you cut it, the volume of panels, talks, conversations, parties, gatherings, bands, and food trucks is hard to manage.
Digital abundance, in the absence of a powerful set of blinders, can be as frustrating as it is fulfilling. And SXSW has the same puzzle. The solution to Digital Overload at SXSW isn't to shut down the potpourri of choice any more than the solution to solving the signal to noise problem on the web is to legislate less tweeting or Facebook friending.
The solution is better tools, and more empowered humans. The solution to Digital Overload both in Austin and online is curation. Curators are the new superheros of the web. And at SXSW, I'd sure have benefited from a few folks who's been willing to curate the content, and share their selections and schedules.
In the absence of a curatorial choice to navigate the massive offering, people default to poor planning and then a 'follow the crowd' behavior into the presentations and panels with the biggest known names. While popularity is certainly one way to find content, often the most interesting and relevant material for you isn't the panel in the biggest room, or the presenter with the biggest name.
Be a curator, or find one. Next year at SXSW, Steve is going to curate and publish his digital content roadmap."
read full article here: http://j.mp/w8dzTr
Via
Giuseppe Mauriello