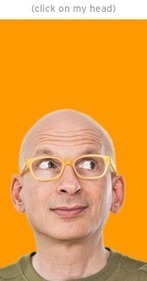 "Why does your boss/in-law/friend/VC/editor/pundit always get it wrong?
Because they measure 'presentation.' Not just the PPT presentation, but the way an idea feels. How does it present. Is it catchy? Clever? Familiar? We measure whether or not it agrees with our worldview and our sense of the way the world is.
The problem is that hits change worldviews. Hits change our senses. Hits appeal to people other than the gatekeepers and then the word spreads.
How? Through persistence and hard work and constant revision"