Scoop.it!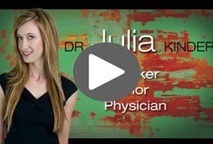 Dr. Kinder is a national speaker, author, physician, early childhood education advocate, fitness consultant and down syndrome expert.
Emily McKnight's insight:
This article shows that It's a myth that everyone with Down Syndrome is mentally retarded. People with Down Syndrome can have a normal IQ, even though many fall below average. The myth comes from the time when most kids with DS were institutionalized, because they didn't receive proper treatment. With new methods of teaching, Kids with DS have continuously rising IQs. Early education is essential in order for DS kids to reach their full potential. The learning of DS kids doesn't become harder until the age of 5. If parents with these kids grow up thinking they are destined to become mentally retarded, then they won't take the proper learning ways.