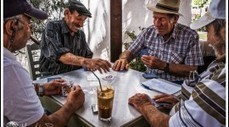 For a few weeks, I have been wandering without giving any indication of the location where I was. Here's a few stories and photographs but no description of where I was. Together we will surely find something, meet men, women and places that may have something to tell us.
"I'm hungry for slowness and silence. To stop for kohl-lined eyes, a woman's calf who reveals itself, a misty plain drowned by dreams. To eat a piece of bread and cheese, ass in the grass, nose to the wind. (…) Enough to see civilizations boxed and culture in greenhouse. My museum, are the roads, the men that take them, village squares, and soup, sitting with strangers."
- Bernard Ollivier, La Longue Marche.